The Company
Founded in 1989, Atlanta Pine Straw has developed a great reputation for providing customers with quality pine straw and mulch in a professional, reliable manner. Clients include apartment complexes, landscape companies (large and small), homeowners associations, government agencies, universities and private homeowners.
Atlanta Pine Straw can supply you with any amount of natural product. We can load pine straw directly into your crew's vehicles from our office. Not only will we deliver your groundcover, but we also offer complete installation services and competitive pricing.
Our coverage area spans the entire southeastern United States, but we can also provide smaller quantities to the Atlanta area. Our friendly staff is available Monday through Friday from 7:30 AM to 4:30 PM to assist your needs. Customers may pick up any amount of mulch at our offices, and we are glad to help you load.
Our retail delivery service is second to none in this area, covering much of the metro Atlanta. Please call us at 770 623-4642 for more information, or visit our office at 3320 Buford Highway in Duluth, Georgia.
Quality Materials
Atlanta Pine Straw uses only the finest quality pine straw and mulch. The pine straw, always slash (long needle) type, is grown under very controlled conditions. It is hand-raked at the optimal time to ensure that only the freshest straw is baled and to make sure that dirt, pine cones and debris are not included. APS goes to great lengths to ensure the production of a bale of straw covers at least 50 square feet which is the larger of the industry size bale. We also offer a wide variety of high-quality natural mulch which we will deliver and install. For a complete list of these products, be sure to visit natural product page.
Installation Process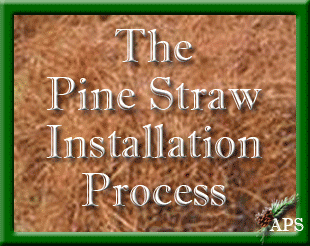 Atlanta Pine Straw's uniformed crews are quick and efficient. They are known for being polite and reliable, and the quality of their work is unsurpassed. They go the extra mile to make sure the pine straw is neatly installed to ensure that they leave your property looking clean and visually appealing. They pay attention to the small but important details such as trenching the borders of the pine straw bed, tucking in the edges, then blowing the area clean when they finish. Most clients agree that having the pine straw professionally installed really does make a difference in its final appearance.
Professional Affiliations
Atlanta Pine Straw has been around for a long time, and you can rest assured that we will be around for as long as you need us.  We go to great lengths to stay informed on the latest techniques and trends so we can give you the best possible products and services.  Our numerous professional affiliations ensure that we will have access to all of the information we need to stay at the top of our industry.  Here are some of the groups of which we are members:
Place Your Order Today!
Place your order online now, and we will contact you to verify the details.